Today, I'm going to vow for the 32nd time this week that I will stop eating rubbish at my desk. Not actual rubbish, of course, but all the junk food that sings out to me like Greek sirens each time I step into the office, and ruins my non-existent diet.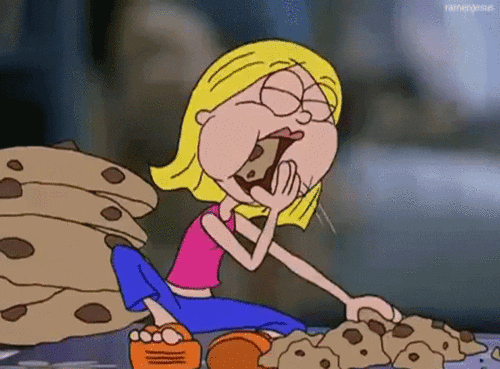 You know what it's like – you have a ton of paperwork to finish, emails to answer, phone calls to take and meetings to attend…and all you can think of is having a snack. You try not to fall into the junk-food trap again and quickly Google what non-evil treats you can munch on, but nothing appeals.
After all, you need something really delicious to help take your mind off things. Like a bar of chocolate. Or a bag of keropok. Or maybe both, since a combination of sweet and savoury would be perfect and could work as a lunch substitute. Get that out of the way and you can really start on work…right? 
Yeah, you know the answer.
Here are three common stress-eating issues (high-five, sista!), and some real solutions to help you slay the habit before you stack on too many pounds.
1. A stress-snack craving is like a red rage – it completely overwhelms you
One minute you're tackling an issue at work and the next, you're on your way to the canteen. You have no clue when your legs started moving, but poof, here you are in front of the snack section.
Try this: Instead of stopping to buy munchies, keep on walking. Going on a stroll whilst taking in your surroundings will help you get your mind off things and blunt your desire to eat.
If you feel you have to buy something since you've already walked the distance, make it a cup of tea. This has been proven to reduce levels of the stress hormone cortisol by as much as 47 per cent.
2. Stress foods just don't work on an emotional level
All those articles raving about the deliciousness of healthy, stress-treating items like nuts and berries? You're not alone in thinking that they must've been written by people who were squirrels in their past life. Stuff like that just doesn't appeal to folk like us who are used to munching on real food – especially when you're eating for emotional comfort. 
Try this: Design your own version of those stress foods that appeal to you, then take them to office and have them ready for whenever you feel you need a fix. For example, make your own toasted oat bars with bananas, or heap tuna (you can cheat with a bit of Kewpie mayo, shh) on wholewheat crackers.
The most important thing here is to have your mind believing what you have is delicious – that's half the battle won. Once you eat them, the nutrients in those foods will take over and help balance out your hormone levels so you'll feel less stressed.
3. The more you try to stop, the more you end up eating
Yep, the world is cruel like that – the harder you try to not think about food as you get through the day, the more it occupies your thoughts. It's just human nature: The more we shouldn't be having something, the more we want it.
Try this: Do something else rather than plough down the same route. Open up your favourite website or have a scroll through Facebook to take your mind away from eating. Or chew gum – according to research, that increases blood flow and neural activity in some regions of the brain, helping to reduce cortisol levels slightly.
For more on lifestyle, head here. Or check out Office Ergonomics Myths, Busted and Boys' Toys For Girls.